Markets of Seville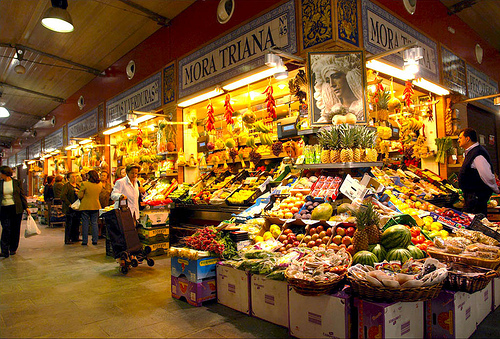 The most popular taste typical of the city at affordable prices
Mercado de Triana
In one of the most privileged spots of the city, we started by the market of the Triana district, located in the Plaza del Altozano, next to the Triana bridge and the castle of San Jorge (former headquarters of the Inquisition). The market stalls closed at noon, their bars open all day from 12: 00.
Mercado del Arenal
Very close to the Real Maestranza bullring and the Torre del Oro and located on the Street Pastor y Landero, the market of el Arenal is located and it was built in the year 1947, making it one of the oldest in the city. This site brings together lifelong jobs as fishmongers along with others such as organic products and vegans.
Mercado de las Setas
In the historic centre of the city, possibly the most youthful of Seville under the umbrella of the Metropol Parasol, known by all the people of Seville as 'The mushroom'. Under the viewpoint, we find the Antiquarium, Roman city discovered at the beginning of the works of the market itself. Entry to the lookout includes a free drink in the bars that are located at the foot of the same.
Mercado de Feria
On the way from the Basilica de la Macarena, next to the ancient walls of the city. The market environment, air free and surrounded by the parish of Omnium Sanctorum and the old palace of the Marqueses de la Algaba, tapas make an experience.
Hotel Adriano is located a few meters from the famous bridge of Isabel II (Triana bridge) and therefore, very close to one of these markets as the Triana. Book now! You can find promo codes on the official web page of the hotel.
E.M.A.